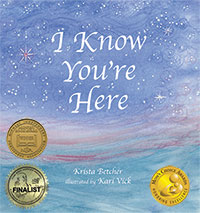 I Know You're Here
Presentations
I am available to speak to your church, grief group, or hospice group about I Know You're Here.
During my time with your group, I will share a multi-media presentation and talk about the book's creation while delivering a timeless message of hope amidst grief.
After the presentation, participants will be familiar with practical ideas and strategies in order to move forward in their own grief process.
My presentation is about 1 hour long.
Fees available upon request. My fees are negotiable. For further details or to inquire about my availability, please contact me.