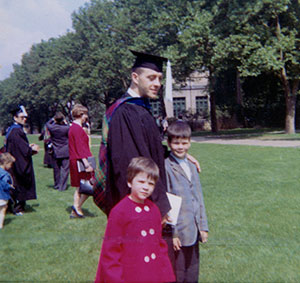 I grew up in a family of educators; my dad was a professor and my mom was a teacher. I saw the hard work and heart that my parents put into their relationships with their students, and that formed my philosophy of creating relationships with students in my own classroom.

Younger Years

As a young girl, I loved magic. Not the magic as performed by a magician, but the magic of angels, unicorns, dragons, leprechauns, mermaids, nymphs, fairies, and elves. I loved the magic of becoming another person by simply choosing a new hat and purse from the dress-up basket. I loved the magic of Santa Claus and unwrapping the mysterious birthday gifts from my friends. Mostly, I loved the magic of exploring new people and destinations in the world of books.

School Years

In elementary school, I discovered my love of writing. I realized that I could create my own people and destinations that I loved so much in reading. My third grade teacher was the first person to acknowledge my passion: I still remember the pure joy I felt when she gave my poetry booklet rave reviews. Many years later, when I was a substitute teacher in my former elementary school, I was able to tell that teacher how her support made a difference in my life at such a young age.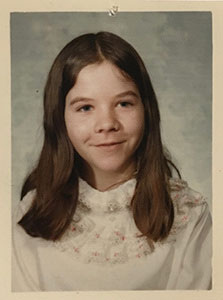 Krista Betcher, sixth grade
When I was a bit older, I remember going to the public library every day after school.  Some of my favorites when growing up were Mandy and The Last of the Really Great Whangdoodles, both by Julie (Andrews) Edwards. Oh, how my heart skipped a beat every time I saw a Nancy Drew book that I hadn't read. At that time, I loved the magic of solving the mystery. I also remember reading Gone With the Wind and my disappointment when the magical images I created as a reader were lost when those words came to life on the movie screen. As a teacher, one of my favorite books to read aloud was Memory Boy by Will Weaver.
When I was in eighth grade, I had the opportunity to live in Denmark for six months when my dad was on sabbatical. I loved the magic of learning about a new culture, experiencing many beloved Danish customs, making new friends, and creating new memories. To this day, Denmark is one of my favorite destinations.
College Years
I've had many jobs throughout my life, but my favorite job in college was when I was a residential camp counselor on the outskirts of St. Louis, MO. I also treasured my camp counselor years in Estes Park, CO.
Music was very important in my high school and college years. I played French Horn and dabbled a bit on the guitar.
When I started college, I wanted to be a music therapist but eventually settled on education. I got my bachelor's degree from Illinois State University, my master's degree from Winona State University, and reading licensure from St. Mary's University of Minnesota.
I've had many jobs throughout my life, but my most important job is being a mom to my two sons. When they were little, I would sing "You are My Sunshine" to them.  Although I don't sing that to them any more, they are still my sunshine and the lights of my life.
Career and Beyond
I taught for 26 years, mostly at the middle school level, before venturing into the author world. Those years of teaching provided the foundation for the advice offered in one of my first books: YAB Helps You Navigate Middle School.
I actually entered the author world with two books; the other is titled I Know You're Here. Shortly after my husband's death in 2014, I started taking pictures of moments in time when his presence was undeniable. Little did I know those moments would provide the ideas for a book. I am blessed to share my message of hope amidst grief. It seems both of my first books have a "transition" theme: transition to middle school and transition to a new life.
As an adult, I still love magic! I love the magic of exploring new places and cultures. I love the magic of opening a book that looks intriguing to discover what's inside. I love nature's beauty, the unconditional love of pets, seeing a rainbow after a rain shower, and the way my heart smiles when I hear my favorite music.  
I'm hoping you will find a way to discover your own magic—whether it's from reading a book, finding your voice in writing, or by exploring our beautiful world. Oh, and if you happen to have a teacher who creates some magical learning experiences, make sure you take the time to say, "Thank you!"
| | | |
| --- | --- | --- |
| | | |
| | | |
| First year of teaching: 1984 | | Last year of teaching: 2017 |